Over the last months we've been working intensively on an exciting new feature for SceneLab. Now, we're proud to roll-out extensive mockup and customization tooling. This is a big step for our app, transforming it into the design tool that we've always envisioned. In the end, we want to provide a fully-fledged graphics design tool without the hassle that comes with conventional solutions while getting you professional results.
SceneLab already offers over 1000 high-quality photo-realistic design elements - now you can make them customize them to your needs by replacing individual parts with graphics or colors! This feature is perfect for a bunch of use-cases.
Product presentation
Showcase your work in a professional look. When you're designing user-interfaces for apps or websites you can easily replace laptop and phone screens with your graphics. This allows you to present your product as if it already exists while providing a surrounding that sets the right mood.
This also works great for non-digital products. Display your print-outs and flyers in a realistic setting or convince customers with stunning textile and package designs.
Designs Reflecting Your Brand & Social Media
Create flashy graphics for your brand and social media appearance without resorting to the stock images everyone else is using.

How To: Mockup Replacement & Coloring
Just select the elements you want to customize and start editing a specific part by clicking its name under the fieldset "customization". It will open up a new tab where you can easily drop-in your graphics. Meanwhile, you can also use any other SceneLab feature there - such as rich texts.
Elements can also be re-colored to create unique looks. This feature is quickly accessible through a color picker next to the customizations. It will effectively change the background color of your mockup replacement.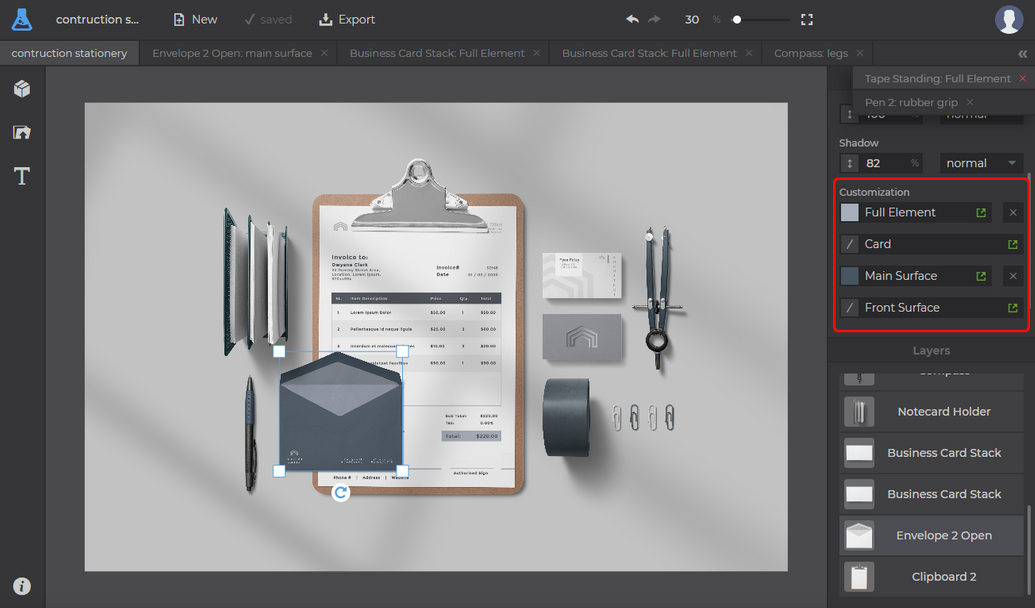 A Whole World of Mockups
Our customization tooling opens up vast possibilities for creative graphic mockup designs. We really love how it turned out. Next up, we're going to provide you with ready-to-go templates to make your design process even easier. Soon, you'll be able to choose from a wide range of professional designs and tweak them to your needs by dropping-in your graphics to create convincing mockups. Join our mailing list to get notified!
Other articles you might like:
June 09, 2020
It's important to make your products feel real. Whether you're pitching an app to your client or trying to get users to download it from a…
January 20, 2020
No matter how good your website or app might be, if you cannot communicate its value to your client or employer, your hard work will be…